We'd love to get to know you.
Why CPC?
This unique partnership between Catholic Pacific College and Trinity Western University offers Catholic students faithful Catholic academics with a recognized degree from Trinity Western University in over 45 degree programs combined with generous financial award opportunities.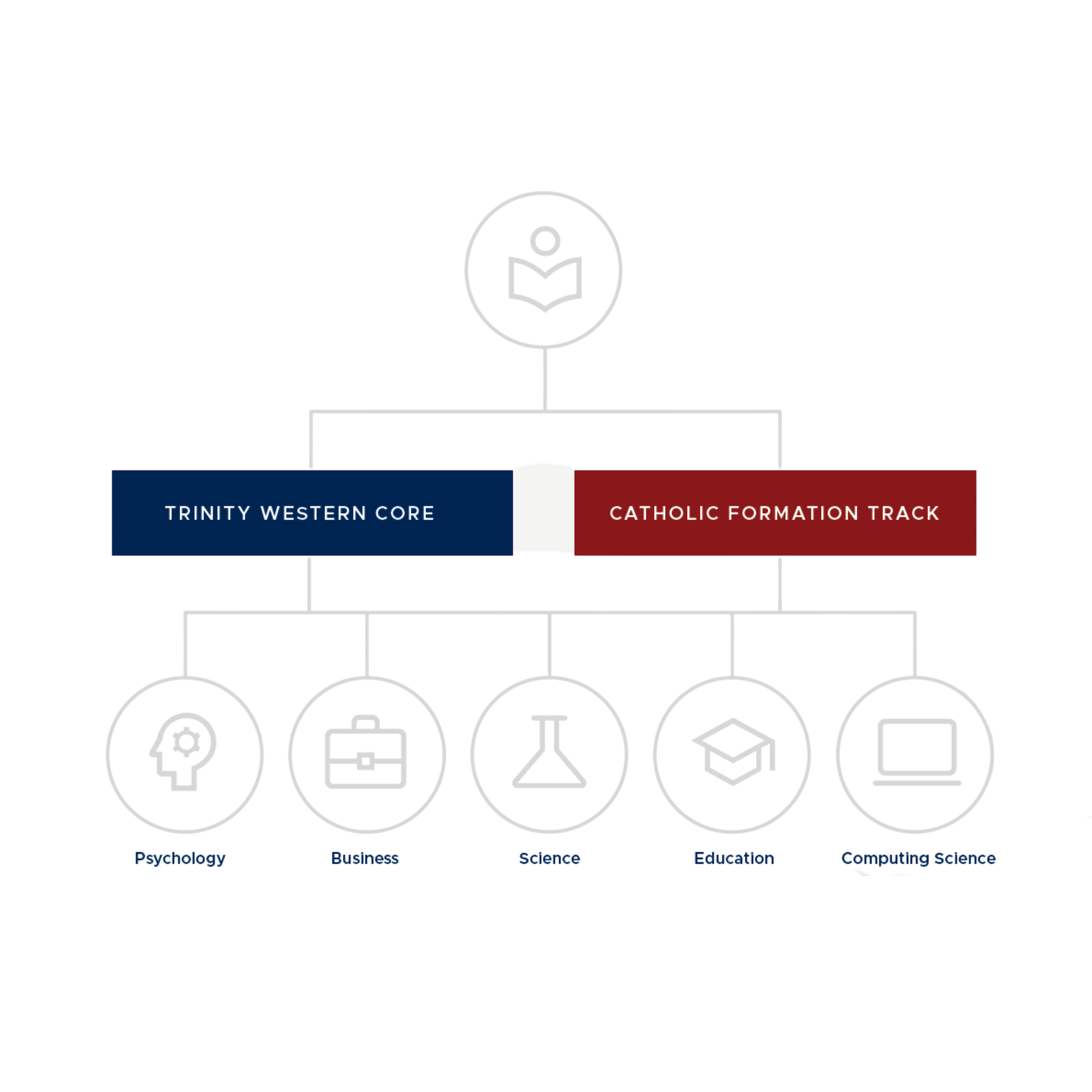 How the Catholic Formation Track works with TWU's Core
All TWU students engage in interdisciplinary studies through completing a core liberal arts curriculum alongside their chosen program.
Students at CPC have the option of taking the Catholic Formation Track in place of the TWU core curriculum*.
The CFT is a formative track designed to expose students to the richness of the Catholic intellectual tradition. The CFT directly engages with fundamental questions that pertain to all aspects of life, enabling students to make informed choices about faith, relationships, vocation, and careers.
*There are some exceptions, and certain rules apply. The CFT counts for 11 of the 16 required core courses. Please click "Learn more" for more information.
Be sure to indicate on your application that you are interested in the Catholic Formation Track
Find out if CPC is right for you
This video will introduce you to CPC and the Catholic Formation Track
One of the easiest ways to find out more information is to book an appointment with our CPC/TWU Admissions Counsellor
The Archbishop of Vancouver Endorses Catholic Formation at CPC
"Get ready to have your mind transformed, changed in the light of truth, so that you will become someone who can engage fruitfully in conversation and debate with your colleagues and peers, many of who do not share your faith. If CPC is successful in fulfilling its mission , you will become someone who has a capacity for exercising judgement, for bringing insights and arguments from a variety of disciplines to bear on the complex issues that are facing society and the Church."
- Right Reverend J. Michael Miller, CSB, Archbishop of Vancouver
(Address to CPC/TWU Students at "An Evening with CPC", September 8, 2021)
We cultivate well-formed students to engage our times fearlessly and faithfully
Hear what they have to say.
"I did not expect the CFT to be as impactful on my education and my faith as much as it has been this last year. Each course has challenged me to think differently, to see the world through the cracks of reality that ordinary life tries to cover up."
"I felt that this was something that I had been missing in my life: this Catholic education and Catholic community. I really wanted to incorporate that into my education."
"I have learned so much about what it means to be a Christian at CPC. The way they explained the Catholic faith now allows me to logically defend it stronger than ever before."
Be sure to indicate on your application that you are interested in the Catholic Formation Track